Personalise Now
Price includes up to 5 children
Welcome to your Christmas Eve Experience
Christmas is such a magical time for your whole family.
This is the perfect build-up to Christmas in one enchanted pack!
What is a Christmas Eve Treat Pack?
The Treat Pack "magically appears" from the North Pole.
Each child has been sent a special task for Christmas Eve, to leave Santa (or Father Christmas) and his Reindeer some treats ready for their arrival...
Simply follow the instructions with a little one on Christmas Eve!
Fun, exciting & magical...
Includes personalised engraved wooden box.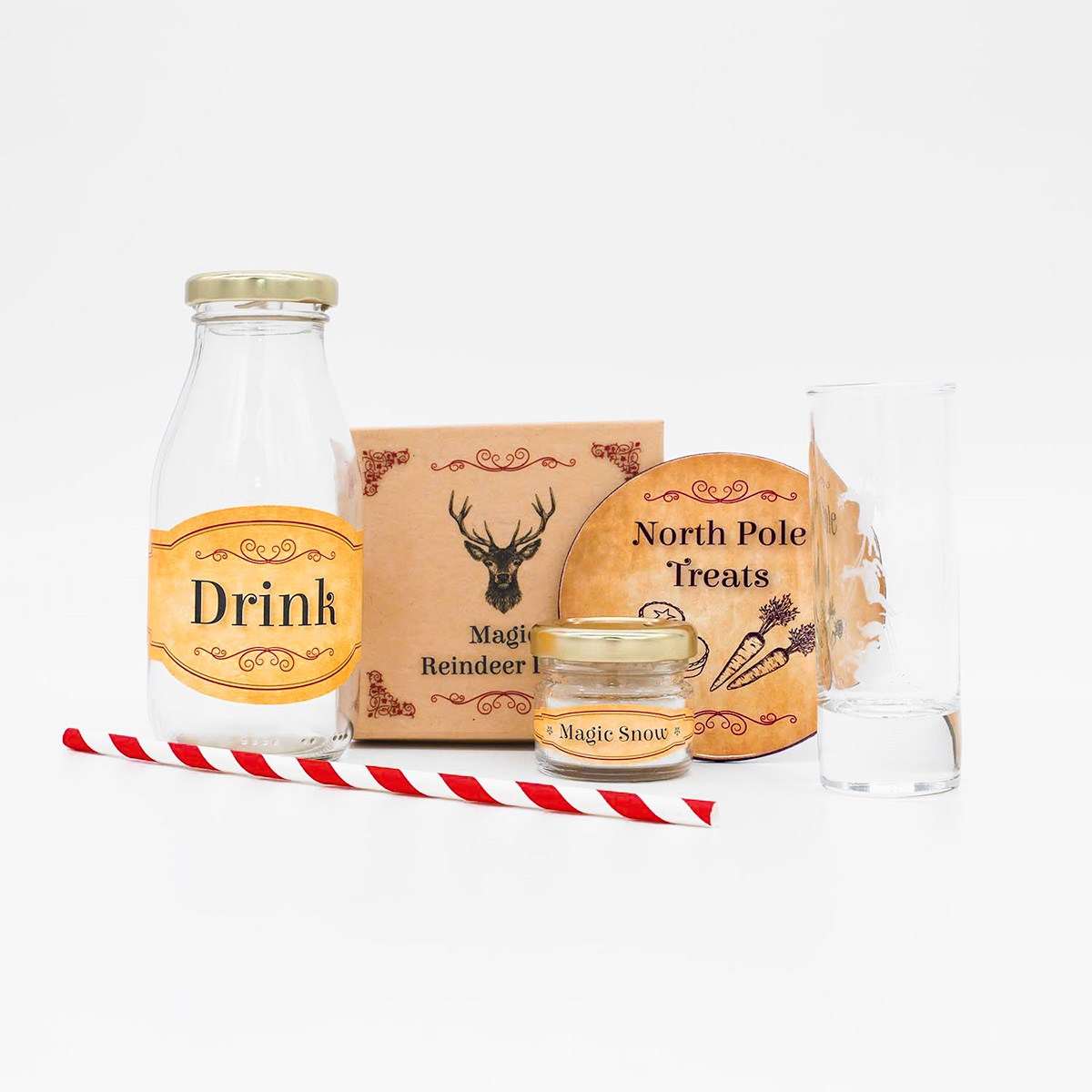 Included In Each Treat Pack
A Drink For Santa (or Father Christmas): a vintage style glass milk bottle and paper straw for his favourite drink.

Magic Reindeer Food: leave out as a tasty treat for the Reindeer.

Magic Snow: add water and watch in amazement as cold, fluffy snow appears!

Treat Plate: leave a mince pie or carrot out for santa (or Father Christmas) and his reindeer.

Shot Glass: a laser engraved North Pole shot glass for his favourite tipple.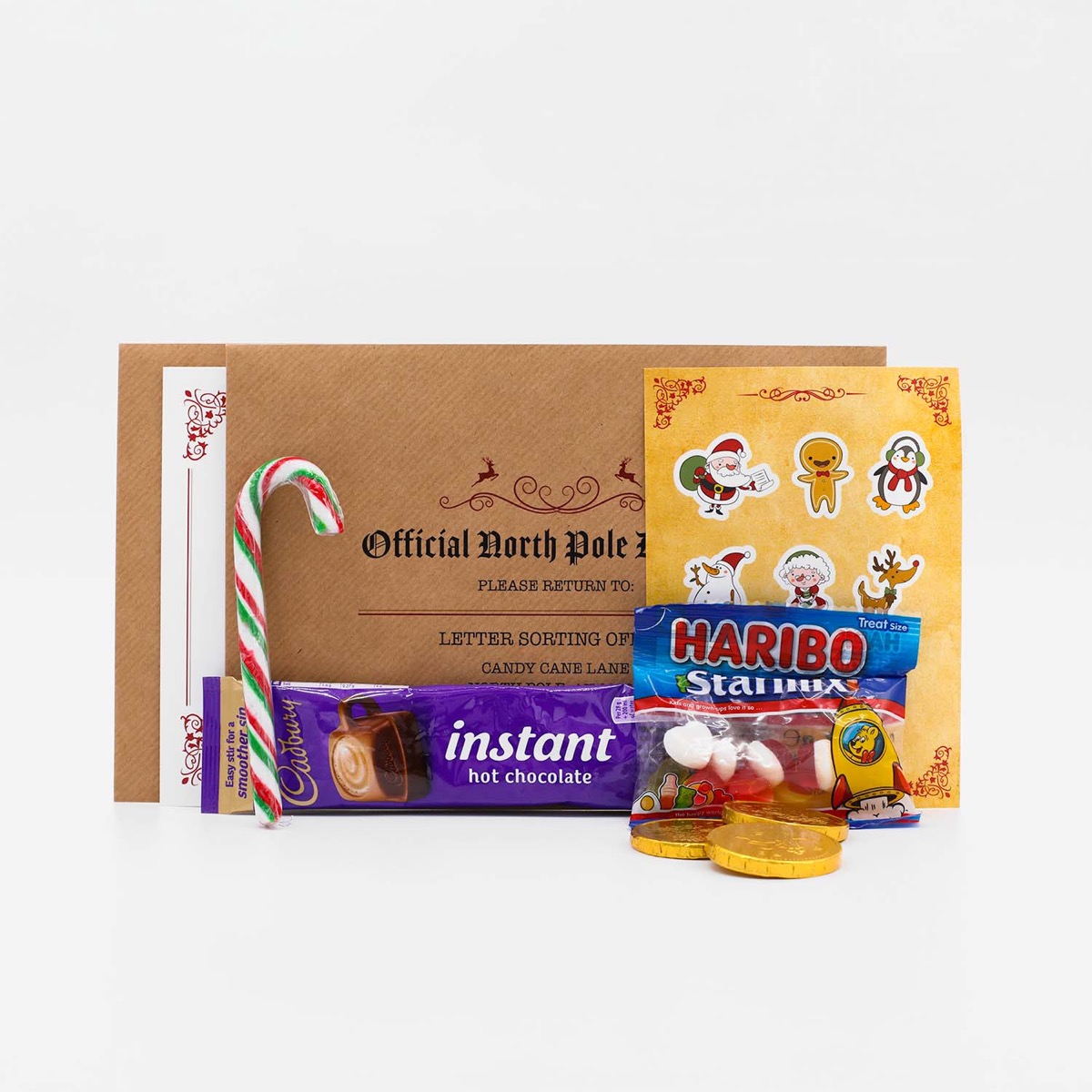 Each Child Will Receive
A personalised letter and envelope from the North Pole: this authentic letter is printed onto crisp textured paper.
A personalised Nice List Certificate (New for 2021): to confirm their place on the Christmas Nice List 2021. *Signed by Head Elf Bernard
Good Behaviour & Wishlist Pack: each child will fill in their Christmas Wishlist, sign to confirm they will behave and seal their envelope with a wax stamp sticker. Attach the postage stamp to 'send' back to the North Pole. (please note it is a fictional address).
Stickers: a sheet of colourful festive stickers.
Golden coins: it wouldn't be Christmas without gold chocolate coins.
Hot chocolate: a perfect mug of Cadbury's hot chocolate for bedtime ZzZzZz...
Sweet treats: a candy cane and a packet of Haribo for good measure.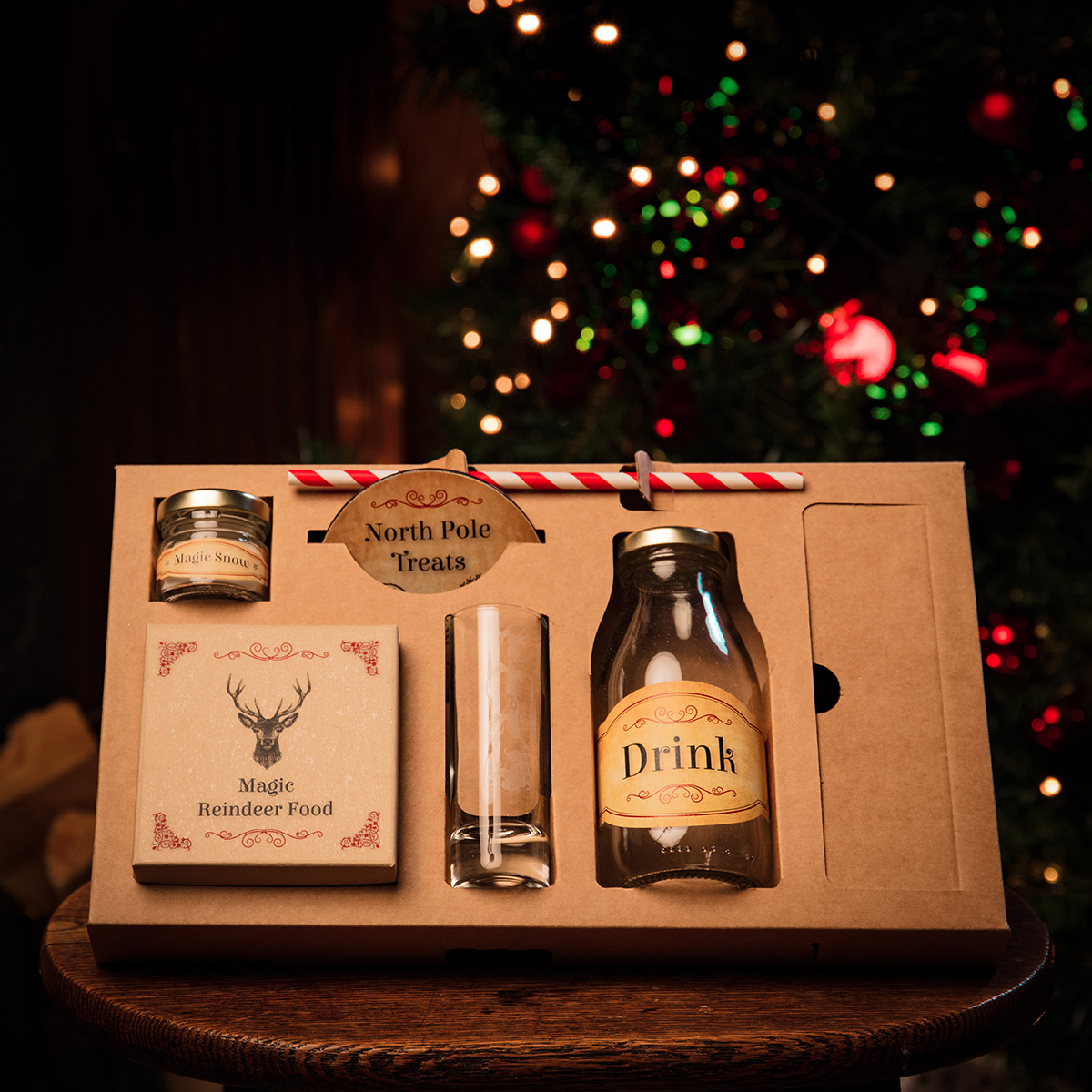 Refill Your Treat Pack
This will fit any of our Christmas Treat Packs from previous years or will be perfect to fill your own empty box.

This bespoke design is sold as one complete set and features up to 5 new Santa (or Father Christmas) letters for 2021.
Christmas Accessories
Make this festive season extra magical with our range of Christmas accessories.
Up your wrapping game...
Personalised Wrapping Paper
Introducing our luxury personalised wrapping paper! Your favourite design is printed onto high-quality, recyclable, smooth wrapping paper ready to impress. Delivered as a 60cm tall roll with a length of your choice.
Official North Pole Document
Personalised Letters
Imagine how excited they will be when a personalised letter and certificate arrives from The North Pole! Printed on authentic crisp textured paper, this letter is signed by Father Christmas or Santa Claus and stamped by the North Pole Delivery Office.
A Magical Christmas Eve Experience
Personalised Video Message From Santa
Get ready to join Santa (or Father Christmas) and his Elves as they get ready on Christmas Eve!
Watch as they are amazed when Santa (or Father Christmas) appears on the screen, says their name, knows what they would like for Christmas and much more...
This is a fantastic enchanting experience for everyone to enjoy and compliments the entire Festive Studio range.
Text From Santa Or Father Christmas
Receive a personalised message directly from The North Pole on Christmas Eve. When you think they could not get anymore excited, imagine their faces when a message arrives just before bedtime.

Encourage them to go to bed early and add the finishing touch to your magical experience.

*Message for display.